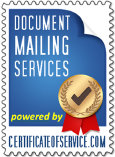 www.certificateofservice.com
...we push the envelope
Mailing Options
Bankruptcy Mail and Notice Service:
Legal Document Mailing Services
PRE-FILING NOTICE (PENDING ANTICIPATED RELEASE DATE 3/1/2018)
Foreclosure Mailing Service
Marketing / Direct Mail (mass mail)
Federal District and State Court Mailing
Personalized mail is simply a mail document that you have already imprinted with the recipients name and address. In other words, you have pre-printed your letter that is designed to be specifically delivered to the one person you have indicated on your document. This means we have to match the envelope to the letter. With a windowed envelope, this is easy, with a non-window envelope, this is time consuming. We charge an insertion fee for non window envelopes and personalized letter matching service.
Account Management
Bankruptcy Integration Program